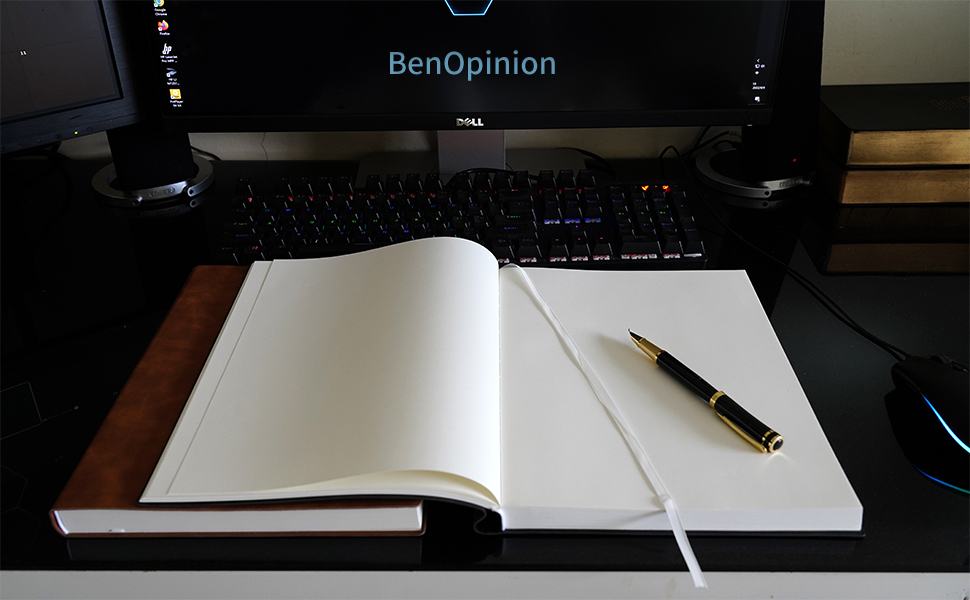 BenOpinion is a brand focused on innovation and quality, and we are committed to creating distinctive, premium high-end journal notebooks. It showcases our unique opinion in the notebook and this notebook will also record your unique content.
We attach great importance to the quality of our products and keep improving them. We have launched this upgraded 320-page Large Notebook Journal. The 320-page Large Notebook Journal has improved paper thickness, and it has thicker paper than the 416-page Large Notebook Journal, reaching a thickness of 0.9 inches (23mm) and a weight of 2.4lb (1100g)
Features:
Soft Faux Leather Cover, made of P.U. leather, a man-made, animal-free material, looks and feels the same as genuine leather, soft and delicate, and comfortable to the touch.
Minimalist style, no complicated patterns on the cover, no superfluous design.
Large size, A4 paper, 8.3×11.2inches (210x285mm), more content can be recorded and displayed on one page, which is clear at a glance.
100GSM high quality thick paper, smooth paper, smooth writing, pen friendly, ink will not bleed.
Lay-flat design, which can be opened 180 degrees, thus obtaining double A4 size drawing area.
White cloth bookmarks to help you quickly locate pages.
Lots of paper, 320 pages (160 sheets).
The structure is sturdy, the paper is sewn using thread, and the pages will not fall off.
2.4lb (1100g), heavyweight paper notebook.